There are many moving pieces that culturally affect the shifts we see in today's Hispanic culture. A very prominent trend has been the rise and embracement of "Afrolatinidad" (Latinos of African descent). Although the Hispanic community has long had some heralded and very influential figures in its history (such as Celia Cruz), colorism has long plagued Latin American culture. That same colorism migrated to the US with our previous generations.
We are now seeing a pivot in this antiquated perspective. There is a newfound appreciation for the culture within the culture. For this generation of Afro-Latinos, a newfound pride has led to a huge embracement of their blackness. It is celebrated as it has both stepped into the mainstream (GM) limelight (e.g., Jharrel Jerome's first ever Emmy win for an Afro-Latino—pictured above) and has a very vocal grassroots movement (Amara La Negra is a prime example of both).
Other well-known examples:
Cardi B, reality TV personality turned megastar rapper
Zoe Saldana, actor (Avatar, Star Trek, Marvel's The Avengers/GotG)
Lupita Nyong'o, Mexican/Kenyan actor (Black Panther, 12 Years a Slave, Star Wars)
The African Diaspora has become a centerpiece of this movement's perspective and vernacular, with some Latinos choosing alternative terms to identify with other than the traditional catchall labels. For instance, 'Pose' Star Indya Moore commented, "Black Latinos don't necessarily have the same experience as Latinos who are not Black. I personally do not identify as Latino because Latino means Latin and Latin, it means white. And I'm not white, so I just call myself Afro-Taíno 'cause that's what I am." Moore highlights that Afro-Latinos have a different experience than that of their fairer-skinned counterparts, something that is further evidenced in a 2019 Pew Research survey (see image carousel above).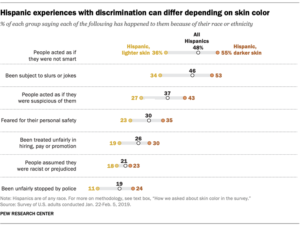 Although Afro-Latinos experience discrimination at a rate that is closer to that of the African-Americans they often resemble (when compared to "white" Hispanics), their broader experience does not quite fit into that box either. According to Carmen Phillips, an Afro-Boricua writer and contributor to Remezcla, "When it comes to discussions on Blackness and Latinidad, Afro-Latinos typically find themselves shut out of both conversations. And while this is frustrating and unfair, it goes beyond that; it also means that our distinct experiences and needs are erased at every turn." (Source: Remezcla)
This is a troubling experience that affects the 24% of all Hispanics who identify as Afro-Latino, according to Pew Research.
Afro-Latinos represent a significant slice of the pie and a multicultural segment that is on the rise; however, it is a segment that is not often addressed by brands. This presents an opportunity, especially within the Personal Care category (where representation impacts decision), to connect with this under-highlighted consumer.
—————————-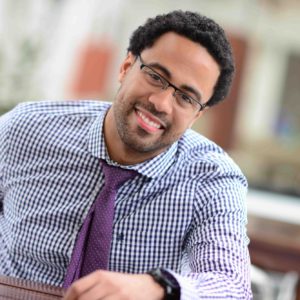 Ed Felix is Director of Content Strategy at Conill. His passion is to future-proof his agency and client partners by generating big-picture ideas that succeed in the real world.